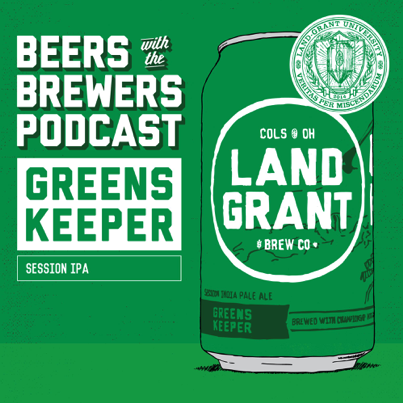 Wake up everyone, it's Greeny season! This week Walt, Adam, Chris and Mark enjoy warmer weather and the perfect companion Greenskeeper as it returns to the shelves just in time for a round of golf, greens keeping or just about anything you enjoy. Big citrus hop flavor that doesn't overpower, medium body, and a low ABV allow for prolonged enjoyment through even the longest of afternoons. This is an IPA that deserves a day off. 
GREENSKEEPER STATS
---
STYLE: SESSION IPA
ABV: 4.7%   IBU: 44
HOPS: COLUMBUS, AMARILLO, CENTENNIAL, CITRA, EL DORADO
MALTS: ALE, GOLDPILS VIENNA, CARAPILS, OAT FLAKES
SEASON: YEAR-ROUND
CONTAINER: KEGS / CANS
AVAILABLE: YEAR-ROUND
We also catch up on a BIG Imperial IPA, Overprint, from last week's lost episode (due to file loss). Hops–like colors–blend and weave in a melange of flavors, aromas, hues, and sensations. In turn conceiving complex spectrums from a few simple ingredients. Overprint IIPA is a massive canvas laid out for CTZ, Mosaic, Azacca, and El Dorado hops to demonstrate their full range of Tropical Fruit and Citrus flavor.
OVERPRINT STATS
---
STYLE: DOUBLE IPA
ABV: 11.0%   IBU: 101
HOPS: CTZ, MOSAIC, AZACCA, EL DORADO
MALTS: 2 ROW, PILSNER, VIENNA
CONTAINER: KEGS / CANS
AVAILABILITY: SPRING 2019